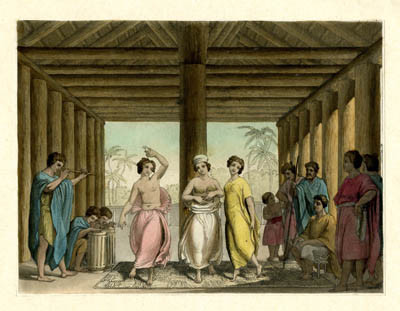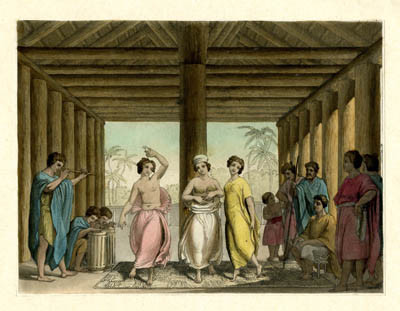 Cliquer sur l'image pour l'agrandir
Titre : A Dance at Ulietea one of the Society Islands in the South Seas
Graveur : J.B. Cipriani / F. Bartolozzi ?
Date : début XIXème siècle
Sujet : Scène représentant trois femmes de Raiatea, vêtues de costumes de cérémonie, dansant sur une natte à l'intérieur d'un bâtiment. La femme à l'extrême droite tient une fleur au-dessus de sa tête. Sur la gauche, un homme joue de la flûte nasale (vivo) et deux hommes jouent du tambour. Sur la droite, du public. 
Type : Lithographie colorée à la main
Langue : Anglais
Identifiant : Oc2006,Prt.50 / AN574052001
Source : The British Museum
Droits : Creative Commons Attribution-NonCommercial-ShareAlike 4.0 International (CC BY-NC-SA 4.0) license / © The Trustees of the British Museum.
Categories: 1800 - 1809, Anglais, Dessins & gravures, îles Sous-le-Vent, Société, The British Museum