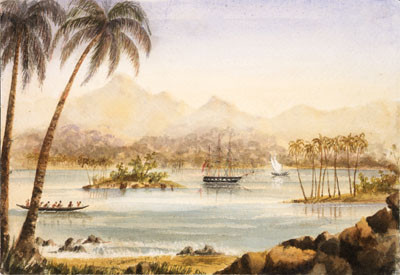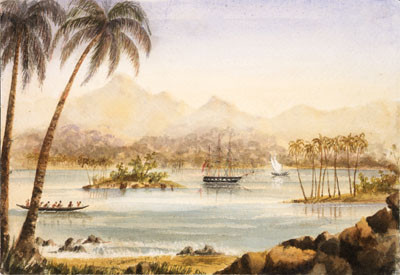 Cliquer sur l'image pour l'agrandir
Titre : Cooks Bay – Eimeo near Otahiti
Collection : Fifteen watercolours mainly of Pacific views
Auteur : Thomas Bent
Graveur : Grignion
Type :  Aquarelle
Date : 1857/1858
Sujet : Vue de la baie de Cook à Moorea. Le navire au centre est l'Iris.
Droits : Domaine public
Identifiant : A-282-019/033 et A-282-023
Source : National Library of New Zealand
Lien : http://mp.natlib.govt.nz/detail/?id=18407
Bent, Thomas, 1833?-1887 :Cooks Bay – Eimeo near Otahiti. [1857-1858].
Reference Number: A-282-023
Shows a view of a bay with a small wooded island in it. In the centre is a sailing ship (the Iris) with its sails furled. Beyond the ship are two triangular-sailed boats or a double-hulled sailboat. In the left foreground is a canoe containing about seven rowers. In the immediate left foreground at far left are two palm trees on the shore, and other palms are grouped on a low headland at the right.
Key terms:
1 image, categorised under Watercolours, related to Iris HMS (Ship), Tahiti, Coconut palm – Tahiti, Tahiti – Description and travel, Beaches – Tahiti, Ships – Tahiti and Canoes and canoeing – Tahiti.
Part of:
Bent, Thomas, 1833?-1887 :[Fifteen watercolours mainly of Pacific views. 1857-1858]., Reference Number A-282-019/033 (15 digitised items)
Extent: 1 watercolour(s)Watercolour, 197 x 285 mm.. Horizontal imageSingle art work
Conditions governing access to original: Partial restriction – Use photographic copies in preference to original.
Other copies available: ColourIn Drawings & Prints under Artist/Title (DFP-007176)
Inscriptions: Inscribed – Mount recto – beneath image: [Title] 16 [encircled]
Usage: You can search, browse, print and download items from this website for research and personal study. You are welcome to reproduce the above image(s) on your blog or another website, but please maintain the integrity of the image (i.e. don't crop, recolour or overprint it), reproduce the image's caption information and link back to here (http://mp.natlib.govt.nz/detail/?id=18407). If you would like to use the above image(s) in a different way (e.g. in a print publication), or use the transcription or translation, permission must be obtained. More information about copyright and usage can be found on the Copyright and Usage page of the NLNZ web site.
Categories: 1850 - 1859, Anglais, Dessins & gravures, National Library of New Zealand, Société