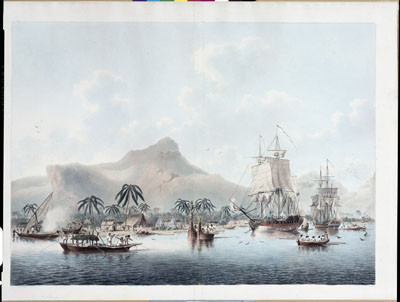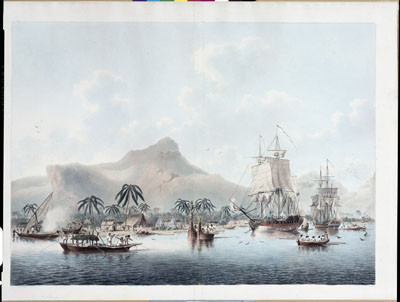 Cliquer sur l'image pour l'agrandir
Titre : View of Huaheine, one of the Society Islands in the South Seas
Auteur : James Cleveley
Graveur / Editeur  : Thomas Martyn – Londres
Coloriste : Francis Jukes
Type :  Impression avec couleur au pochoir
Date : 1787
Sujet : Le Resolution et le Discovery mettent l'ancre au port de Fare à Huahine dans l'archipel de la Société. D'après les dessins réalisés sur place par James Cleveley entre 1776 et 1780, puis la peinture réalisée à Londres par Cleveley. 
Droits : Domaine public
Identifiant : C-036-020
Source : National Library of New Zealand
Lien : http://mp.natlib.govt.nz/detail/?id=40844
Cleveley, James fl 1776-1780 :[View of Huaheine, one of the Society Islands in the South Seas. Drawn on the spot by James Cleveley, painted by John Cleveley, London, F. Jukes aquatt. London, Thomas Martyn, 1787]
Reference Number: C-036-020
Canoes, dwellings, observatory tents, the Resolution and Discovery at anchor in Fare Harbour, Huahine, Society Islands
Key terms:
1 image, categorised under Aquatints, related to Francis Jukes, James Cleveley, John Cleveley, James Cook, Alexander Horsburgh Turnbull, Thomas Martyn (London publisher), Resolution HMS (Ship. fl 1771-1778), Discovery HMS (Ship. 1775-1781), Huahine, Dwellings – Tahiti, Society Islands (French Polynesia) – Discovery and explorationand Canoes and canoeing – Tahiti.
Part of:
Cleveley, James fl 1776-1780 :[View of Huaheine, one of the Society Islands in the South Seas. Drawn on the spot by James Cleveley, painted by John Cleveley, London, F. Jukes aquatt. London, Thomas Martyn, 1787], Reference Number C-036-020 (1 digitised items)
Extent: 1 colour art print(s)Tinted aquatint, hand-coloured, 432 x 597 mm. Horizontal imageSingle art work
Conditions governing access to original: Partial restriction – Use photographic copies in preference to original.
Other copies available: File PrintIn Drawings & Prints under Artist/Title (DFP-014041)
Usage: You can search, browse, print and download items from this website for research and personal study. You are welcome to reproduce the above image(s) on your blog or another website, but please maintain the integrity of the image (i.e. don't crop, recolour or overprint it), reproduce the image's caption information and link back to here (http://mp.natlib.govt.nz/detail/?id=40844). If you would like to use the above image(s) in a different way (e.g. in a print publication), or use the transcription or translation, permission must be obtained. More information about copyright and usage can be found on the Copyright and Usage page of the NLNZ web site.
Categories: 1780 - 1789, Anglais, Dessins & gravures, îles Sous-le-Vent, National Library of New Zealand, Peintures