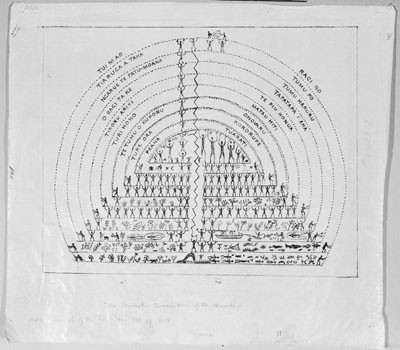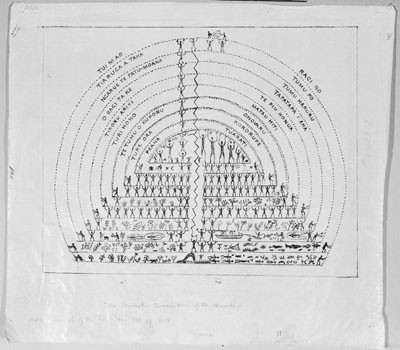 Cliquer sur l'image pour l'agrandir
Titre : Paiore – The Paumoto conception of the Heavens, 1918
Auteur : Paiore de l'atoll de Anaa
Type : Dessin à l'encre sur toile de lin – Copie réalisée par un inconnu pour le  Journal of the Polynesian Society à partir d'une version antérieure (1820)
Date : 1918
Identifiant : A-164-010
Source : National Library of New Zealand
Lien : http://mp.natlib.govt.nz/detail/?id=34531
Paiore, fl 1820s :The Paumoto conception of the Heavens, 1918 [ca 1820].
Reference Number: A-164-010
A creation chart by Paiore of Anaa Atoll, Tuamotu Archipelago. See 'The lost caravel' by Robert Langdon. (Sydney, Pacific Publications, 1975) for further details. The drawing consists of a pyramid-shaped structure of plants, animals and humans, with dotted lines in a half-circle above the pyramid, linking the different aspects of creation. This version is an ink copy, prepared by an unknown copyist for the Journal of the Polynesian Society in 1918 and based on an earlier version, probably from the 1820s, whose location is unknown, although the Library holds a photograph of it (negative F-28160-1/2).
Part of:
Paiore, fl 1820s :The Paumoto conception of the Heavens, 1918 [ca 1820]., Reference Number A-164-010 (1 digitised items)
Extent: 1 drawing(s)Ink on linen tracing cloth, 190 x 235 mm. Single art work
Conditions governing access to original: Partial restriction – Use photographic copies in preference to original.
Other copies available: File PrintIn Drawings & Prints under Artist/Title (DFP-004684)
Usage: You can search, browse, print and download items from this website for research and personal study. You are welcome to reproduce the above image(s) on your blog or another website, but please maintain the integrity of the image (i.e. don't crop, recolour or overprint it), reproduce the image's caption information and link back to here (http://mp.natlib.govt.nz/detail/?id=34531). If you would like to use the above image(s) in a different way (e.g. in a print publication), or use the transcription or translation, permission must be obtained. More information about copyright and usage can be found on the Copyright and Usage page of the NLNZ web site.
External Links:
View Full Descriptive Record in TAPUHI
View and/or order a copy of this image from Timeframes
View Archived Image on NDHA
Categories: 1910 - 1919, Dessins & gravures, Manuscrits & tapuscrits, National Library of New Zealand, Paumotu, Tuamotu