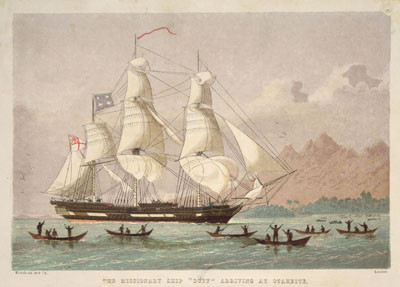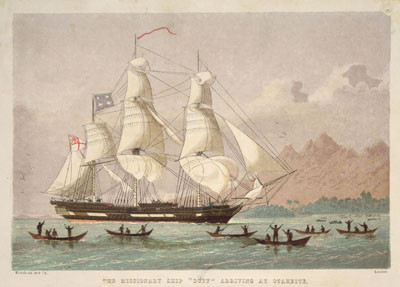 Cliquer sur l'image pour l'agrandir
Titre : The missionary ship « Duff » arriving at Otaheite
Lithographe :  Kronheim & Co – Londres
Date : 1820
Sujet : Arrivée du navire « Duff » à Tahiti. James Wilson fut l'un des premiers membres de la Société des missions de Londres (London Missions Society) créée en 1795. À ce titre, en tant que commandant du Duff, navire affrété par la LMS, il conduisit 39 missionnaires (30 hommes, 6 femmes et 3 enfants) vers l'île de Tahiti qu'il atteignit le 5 mars 1797. L'arrivée de l'Évangile est ainsi célébrée chaque année le 5 mars en Polynésie française. Lors de son voyage, James Wilson fut également le découvreur d'un certain nombre d'îles jusqu'alors inconnues des Européens, comme Temoe, les îles Gambier (le 24 mai 1797), Takaroa, Pukarua. (Source Wikipedia). Inscription au verso : Presented by Mr. A. W. Campbell C/O Dalgety & Co. Geelong .
Type : Lithographie
Droits : Domaine public
Identifiant : A-118-003
Source : National Library of New Zealand
Lien : http://mp.natlib.govt.nz/detail/?id=5523&l=en
J M Kronheim and Company :The missionary ship « Duff » arriving [ca 1797] at Otaheite. [Printed by] Kronheim and Co. London [1820s?]
Reference Number: A-118-003
Shows Tahitians waving in their canoes in the foreground with the mission ship in full sail, and tall hills and coconut palms in the background.
Key terms:
1 image, categorised under Lithographs, related to J M Kronheim and Company 1860, Duff (Ship), Tahiti, Missionaries – Tahiti, Tahitians and Canoes and canoeing – Tahiti.
Part of:
J M Kronheim and Company :The missionary ship « Duff » arriving [ca 1797] at Otaheite. [Printed by] Kronheim and Co. London [1820s?], Reference Number A-118-003 (1 digitised items)
Extent: 1 colour art print(s)Coloured print 165 x 241 mm. Single art work
Conditions governing access to original: Partial restriction – Use photographic copies in preference to original.
Usage: You can search, browse, print and download items from this website for research and personal study. You are welcome to reproduce the above image(s) on your blog or another website, but please maintain the integrity of the image (i.e. don't crop, recolour or overprint it), reproduce the image's caption information and link back to here (http://mp.natlib.govt.nz/detail/?id=5523). If you would like to use the above image(s) in a different way (e.g. in a print publication), or use the transcription or translation, permission must be obtained. More information about copyright and usage can be found on the Copyright and Usage page of the NLNZ web site.
Categories: 1820 - 1829, Anglais, Dessins & gravures, National Library of New Zealand, Société, Tahiti