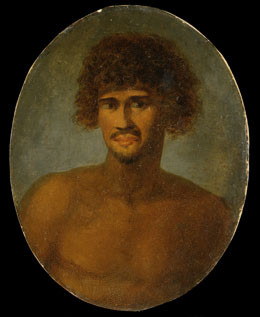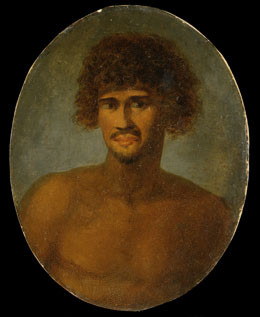 Cliquer sur l'image pour l'agrandir
Titre : [Webber, John] 1752-1793 :[Tu (Cook's Otoo), King Pomare I of Tahiti. 1777]
Auteur : John Webber (1752-1793)
Type :  Peinture à l'huile sur toile
Date : 1777
Sujet : Portrait de Pomare I peint en 1777 par John Webber. Le nom de Pomare I varie selon les sources. Cook et Omai l'appellent Otoo, Webber l'appelle Tu.
Droits : Domaine public
Identifiant : G-697
Source : National Library of New Zealand
Lien : http://mp.natlib.govt.nz/detail/?id=4102
[Webber, John] 1752-1793 :[Tu (Cook's Otoo), King Pomare I of Tahiti. 1777]
Reference Number: G-697
Head and shoulders portrait of a young Tahitian male.
Part of:
[Webber, John] 1752-1793 :[Tu (Cook's Otoo), King Pomare I of Tahiti. 1777], Reference Number G-697 (1 digitised items)
Extent: 1 oil(s) Framed and with velvet mat.Oil on canvas on board 362 x 280 mm. Oval image, verticalSingle art work
Conditions governing access to original: Not restricted
Other copies available: File PrintIn Drawings & Prints under Artist/Title (DFP-001498)
Usage: You can search, browse, print and download items from this website for research and personal study. You are welcome to reproduce the above image(s) on your blog or another website, but please maintain the integrity of the image (i.e. don't crop, recolour or overprint it), reproduce the image's caption information and link back to here (http://mp.natlib.govt.nz/detail/?id=4102). If you would like to use the above image(s) in a different way (e.g. in a print publication), or use the transcription or translation, permission must be obtained. More information about copyright and usage can be found on the Copyright and Usage page of the NLNZ web site.
Categories: 1770 - 1779, Anglais, National Library of New Zealand, Peintures, Société, Tahiti