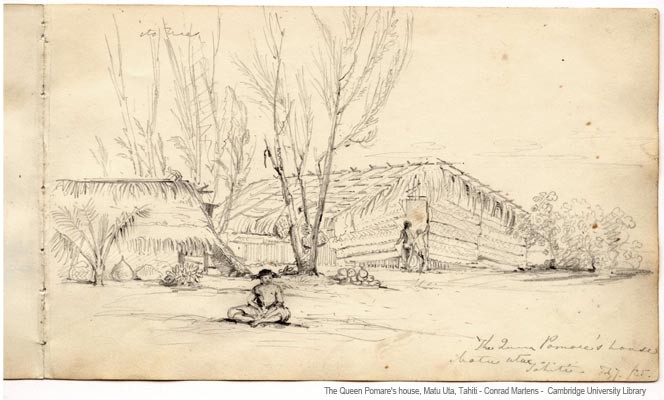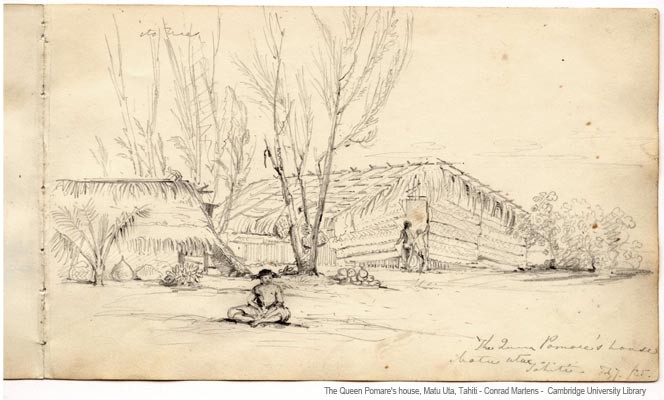 Titre : The Queen Pomare's house, Matu Uta, Tahiti  – Maison de la reine Pomare, Motu Uta, Tahiti
Dessinateur : Conrad Martens (1801-1878)
Date de création : 1834-1835
Collection : Sketchbook I (MS ADD 7984) – croquis 85
Source : Cambridge University Library
Sujet : Maison de la reine Pomare, Motu Uta, Tahiti. Ce dessin est extrait d'un carnet de croquis réalisé par Conrad Martens lors d'un voyage du Beagle. Le voyage se déroula le long des côtes d'Amérique du Sud, dans les îles du Pacifique Sud, en Nouvelle Zélande et en Australie entre 1834 et 1835.
Lien : http://cudl.lib.cam.ac.uk/view/MS-ADD-07984/85
Le second voyage du HMS Beagle ( extrait de wikipedia ) 
https://fr.wikipedia.org/wiki/Second_voyage_du_HMS_Beagle
Le second voyage du HMS Beagle, du au , est le second voyage d'exploration scientifique du HMS Beagle, dirigé par le capitaine Robert FitzRoy qui avait déjà pris le commandement du navire lors de son premier voyage, après le suicide de son capitaine. FitzRoy, craignant le même destin, cherche pour cette deuxième expédition un compagnon de voyage d'un niveau intellectuel suffisant avec lequel il puisse discuter. Averti par son professeur en sciences naturelles John Stevens Henslow, le jeune étudiant en théologie Charles Darwin embarque sur le navire. Il n'a été invité à prendre part au voyage que pour tenir compagnie au capitaine, Robert Fitzroy. Darwin a pris sur lui d'endosser le rôle de naturaliste et s'est lui-même perçu ainsi.
Le but initial de l'expédition est de réaliser la cartographie de la côte de l'Amérique du Sud en deux ans. En définitive le Beagle traverse l'océan Atlantique, parcourt les côtes de l'Amérique du Sud, puis retourne vers l'Angleterre sans revenir vers l'est, mais en continuant sa route vers l'ouest, via Tahiti et l'Australie, pour faire finalement une circumnavigation de la Terre. Au bout du compte, le voyage d'une durée initialement prévue de deux ans en aura duré presque cinq.
Darwin consacre la plupart de son temps à explorer les terres. Ainsi sur l'ensemble du voyage, il passe 3 ans et 3 mois à terre pour seulement 18 mois en mer. Avant les îles Galápagos, il explore la pampa argentine, le nord de la Patagonie, le désert d'Atacamaainsi que la cordillère des Andes. Il profite de ce voyage pour établir sa réputation de naturaliste en décrivant avec détails les plantes, animaux, fossiles et régions rencontrés, publie le récit de son voyage en 1838 avec Le Voyage du Beagle et devient célèbre avec sa théorie de l'évolution par la sélection naturelle et son livre de 1859, L'Origine des espèces, directement inspirés de son expérience à bord du Beagle.
Toutes les croquis réalisés par Martens dans ce carnet : Gambier's Islands (image 58, page 38v) Untitled [Glossary] (image 59, page 39v) Apareaitu, Moorea (image 60, page 40r) Apareaitu (image 61, page 41r) Tahiti, from Apareaitu (image 62, page 41v) Apareaitu (image 64, page 43r) Untitled [Palm frond] (image 65, page 43v) Apareaitu (image 66, page 44r) Untitled [Notes] (image 67, page 44v) Sugar cane and Meia or Banana (image 68, page 45r) Castor oil plant (image 69, page 46r) Apunohu valley (image 70, page 47r) Bread fruit trees (image 71, page 48r) South Sea Academy – Revd J Simpson, J (Rev) (image 72, page 49r) The church, Papetoai (image 73, page 50r) Papetoai (image 74, page 50v) Cook's Harbour, Eimeo or Moorea, Papetoai (image 76, page 52r) View at the head of the Harbour of Papetoai Harbour (image 77, page 52v) Valley of Apunohu, Moorea (image 79, page 54r) [Unidentified scene] (image 80, page 55r) View on the South side of Moorea, south side (image 81, page 56r) Tabuna, Tahiti (image 82, page 57r) Papeiti Harbour (image 83, page 58r) Tounoa (image 84, page 59r) The Queen Pomare's house, Matu uta, Tahiti (image 85, page 60r) Houses on Matu uta, Tahiti (image 86, page 61r) View in Papeiti Harbour, Tahiti (image 87, page 62r) Cottage at Tahiti (image 88, page 63r) Tano plant, Tahiti (image 89, page 64r).
Categories: 1830 - 1839, Anglais, Cambridge University Library, Dessins & gravures, Société, Tahiti