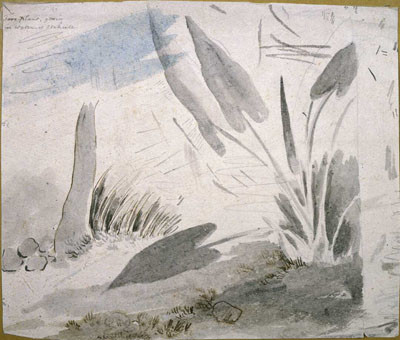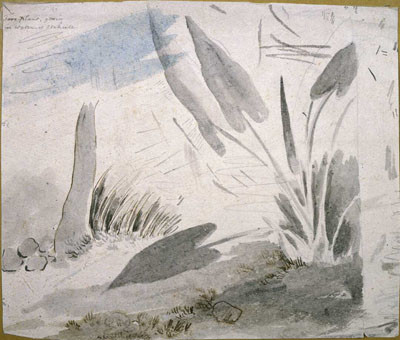 Cliquer sur l'image pour l'agrandir
Titre : Taro plant, grows in water at Otaheite (Between 1777 and 1779)
Auteur : William Webb Ellis
Date : 1785
Sujet : Dessin d'un plan de taro. Collection de dessins réalisés par William Ellis sur les navires Discovery et Resolution lors du troisième voyage de Cook dans le Pacifique entre 1776 et 1780.
Type : Dessin à l'encre et lavis
Langue : Anglais
Droit : Domaine public
Identifiant A-264-028
Source : National Library of New Zealand
Lien : http://mp.natlib.govt.nz/detail/?id=27940
Ellis, William Webb, d 1785 :Taro plant, grows in water at Otaheite. [Between 1777 and 1779]
Reference Number: A-264-028
A taro plant growing
Key terms:
1 image, categorised under Natural history drawings and Wash drawings, related to John Webber, Nomuka, Hawaii, Tahiti and Taro.
Part of:
Ellis, William Webb, d 1785 :[A collection of drawings made by William Ellis on H.M.S. Discovery and Resolution during Captain Cook's third voyage to the Pacific 1776-1780], Reference Number A-264-001/049 (28 digitised items)
Extent: 1 drawing(s)Ink and wash, 182 x 213 mm. Horizontal imageArt works
Historical Notes: Drawn on Cook's third circumnavigation
Conditions governing access to original: Partial restriction – Use photographic copies in preference to original.
Other copies available: File PrintIn Drawings & Prints under Artist/Title (DFP-010262)
Inscriptions: Inscribed – Recto – top left: 'Taro plant, grows in water at Otaheite' in ink. Also number in pencil top right 1.169
Usage: You can search, browse, print and download items from this website for research and personal study. You are welcome to reproduce the above image(s) on your blog or another website, but please maintain the integrity of the image (i.e. don't crop, recolour or overprint it), reproduce the image's caption information and link back to here (http://mp.natlib.govt.nz/detail/?id=27940). If you would like to use the above image(s) in a different way (e.g. in a print publication), or use the transcription or translation, permission must be obtained. More information about copyright and usage can be found on the Copyright and Usage page of the NLNZ web site.
Categories: 1780 - 1789, Anglais, Dessins & gravures, National Library of New Zealand, Société, Tahiti