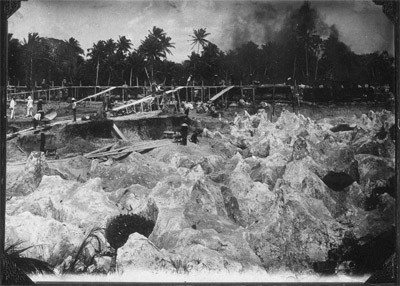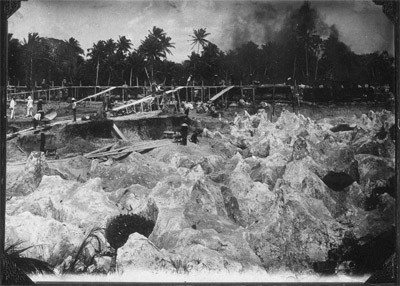 Cliquer sur l'image pour l'agrandir
Titre : Phosphate fields and workers, Makatea Island, 1926
Auteur : inconnu
Collection : Makatea album 3, Reference Number PA1-o-322
Type :  Photographie
Date : 1926
Sujet : Mine à ciel ouvert de phosphate de Makatea avec travailleurs.
Droits : Domaine public
Identifiant : PA1-o-322-17 / Alexander Turnbull Library Pictures996. Makatea Island (PFP-027000)
Source : National Library of New Zealand
Lien : http://ndhadeliver.natlib.govt.nz/delivery/DeliveryManagerServlet?dps_pid=IE344054&dps_custom_att_1=timeframes&
Phosphate fields and workers, Makatea Island, [ca 1926]
Reference Number: PA1-o-322-17
Phosphate fields at Makatea Island, French Polynesia, circa 1926. Looks across a field towards workers loading railway wagons with wheelbarrow loads of phosphate deposits. Photographer unidentified.
Key terms: 1 image.
Part of: Makatea album 3, Reference Number PA1-o-322 (2 digitised items)
Creator unknown : Albums of photographs, chiefly relating to phosphate mining at Makatea Island, French Polynesia, Reference Number PAColl-8722 (2 digitised items)
Extent: 1 b&w original photographic print(s)Silver gelatin print 12.3 x 16.9 cm, mounted on album page 21.7 x 26.7 cm. Horizontal imageSingle photograph
Conditions governing access to original: Not restricted
Other copies available: File print available in Turnbull Library Pictures996. Makatea Island(PFP-027000)
Inscriptions: Inscribed – On album page – beneath image: Makatea – Phosphate fields
Usage: You can search, browse, print and download items from this website for research and personal study. You are welcome to reproduce the above image(s) on your blog or another website, but please maintain the integrity of the image (i.e. don't crop, recolour or overprint it), reproduce the image's caption information and link back to here (http://mp.natlib.govt.nz/detail/?id=34019). If you would like to use the above image(s) in a different way (e.g. in a print publication), or use the transcription or translation, permission must be obtained. More information about copyright and usage can be found on the Copyright and Usage page of the NLNZ web site.
Categories: 1920 - 1929, Anglais, National Library of New Zealand, Photographies, Tuamotu