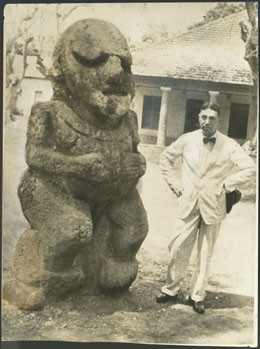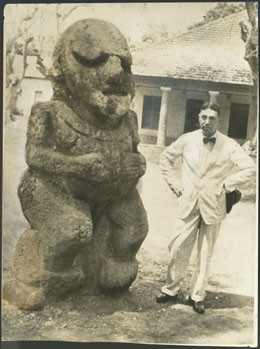 Cliquer sur l'image pour l'agrandir
Titre : Peter Henry Buck in Tahiti, with a stone sculpture of a female deity from Ra'ivavae, Austral Islands, ca 1930s
Auteur : ?
Collection : Ramsden and his family and Maori subjects, Reference Number PAColl-0546
Type :  Photographie
Date : 1930
Sujet : Peter Henry Buck devant l'ancien Musée de Papeete avec une sculpture de pierre d'une déesse de Ra'ivavae aux Australes. Photographie prise autour de 1930. Photographe inconnu. Te Rangi Hīroa, ou Peter Henry Buck, né vers octobre 1877 et mort le 1er décembre 1951, était un homme politique et anthropologue néo-zélandais. Il était membre de l'iwi maori Ngāti Mutunga.
Droits : Domaine public
Identifiant : PAColl-0546-12-01
Source : National Library of New Zealand
Lien : http://mp.natlib.govt.nz/detail/?id=34474
Peter Henry Buck in Tahiti, with a stone sculpture of a female deity from Ra'ivavae, Austral Islands, ca 1930s
Reference Number: PAColl-0546-12-01
Peter Henry Buck outside the former Tahiti Museum, with a stone sculpture of a female deity from Ra'ivavae, Austral Islands. Photograph taken circa 1930s, by an unidentified photographer.
Part of:
Ramsden, Eric :Photographs relating to Ramsden and his family and Maori subjects, Reference Number PAColl-0546 (105 digitised items)
Extent: 1 b&w original photographic print(s)Silver gelatin print 15.5 x 11.7 cm. Vertical imageSingle photograph
Conditions governing access to original: Not restricted
Other copies available: File print available in Turnbull Library Pictures920. Buck, Peter Henry(PFP-026791)
Usage: You can search, browse, print and download items from this website for research and personal study. You are welcome to reproduce the above image(s) on your blog or another website, but please maintain the integrity of the image (i.e. don't crop, recolour or overprint it), reproduce the image's caption information and link back to here (http://mp.natlib.govt.nz/detail/?id=34474). If you would like to use the above image(s) in a different way (e.g. in a print publication), or use the transcription or translation, permission must be obtained. More information about copyright and usage can be found on the Copyright and Usage page of the NLNZ web site.
Categories: 1930 - 1939, Anglais, Australes, National Library of New Zealand, Photographies, Société, Tahiti