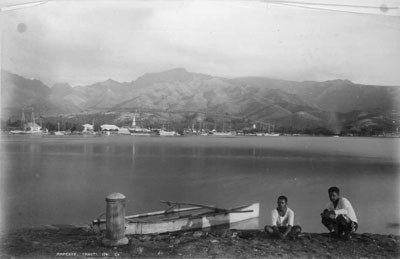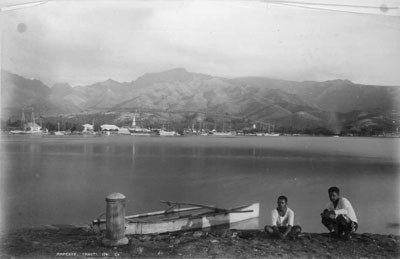 Cliquer sur l'image pour l'agrandir
Titre : Papeete and harbour, Tahiti – Photograph taken by George Dobson Valentine, 1887
Auteur : George Dobson Valentine
Collection :
Kirk album, Reference Number PA1-q-138
Kirk, Thomas William, 1856-1936 :Photograph album, Reference Number PA-Group-00133
Type :  Photographie
Date : 1887
Sujet : Le port de Papeete photographié par George Dobson Valentine entre le 13 juillet et le 4 août 1887.
Droits : Domaine public
Identifiant : PA1-q-138-082
Source : National Library of New Zealand
Lien : http://mp.natlib.govt.nz/detail/?id=21444
Papeete and harbour, Tahiti – Photograph taken by George Dobson Valentine, 1887
Reference Number: PA1-q-138-082
View of Papeete and harbour, Tahiti photographed by George Dobson Valentine between 13 July and 4 August 1887
Key terms: 1 image, categorised under Landscapes, related to George Dobson Valentine, Tahiti, Papeete, Men, Tahitian, Cities and towns – Tahiti, Harbours – Tahiti – Papeete, Mountains – Tahiti and Canoes and canoeing – Tahiti.
Part of:
Kirk album, Reference Number PA1-q-138 (17 digitised items)
Kirk, Thomas William, 1856-1936 :Photograph album, Reference Number PA-Group-00133 (17 digitised items)
Extent: 1 b&w original photographic print(s)Albumen print. Single photograph
Conditions governing access to original: Not restricted
Inscriptions: Inscribed – Photographer's title on negative – bottom left: Papeete. Tahiti. 174. G.V.
Usage: You can search, browse, print and download items from this website for research and personal study. You are welcome to reproduce the above image(s) on your blog or another website, but please maintain the integrity of the image (i.e. don't crop, recolour or overprint it), reproduce the image's caption information and link back to here (http://mp.natlib.govt.nz/detail/?id=21444). If you would like to use the above image(s) in a different way (e.g. in a print publication), or use the transcription or translation, permission must be obtained. More information about copyright and usage can be found on the Copyright and Usage page of the NLNZ web site.
Categories: 1880 - 1889, Anglais, National Library of New Zealand, Photographies, Société, Tahiti