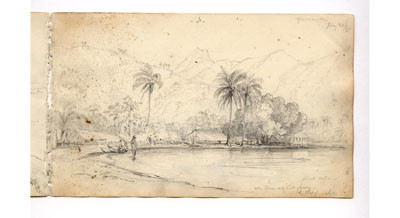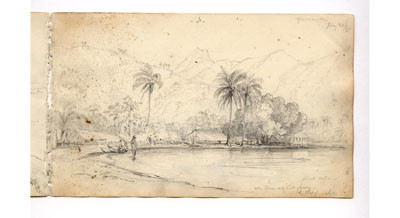 Titre : Afareaitu 23/35
Dessinateur : Conrad Martens (1801-1878)
Date de création : 1834-1835
Collection : Sketchbook I (MS ADD 7984) – croquis 83
Source : Cambridge University Library
Sujet : Croquis de la baie de Afareaitu, au fond une chapelle blanche. Ce dessin est extrait d'un carnet de croquis réalisé par Conrad Martens lors d'un voyage du Beagle. Le voyage se déroula le long des côtes d'Amérique du Sud, dans les îles du Pacifique Sud, en Nouvelle Zélande et en Australie entre 1934 et 1935.
Lien : http://cudl.lib.cam.ac.uk/view/MS-ADD-07984/83
Tous les croquis réalisés par Martens dans ce carnet : Gambier's Islands (image 58, page 38v) Untitled [Glossary] (image 59, page 39v) Apareaitu, Moorea (image 60, page 40r) Apareaitu (image 61, page 41r) Tahiti, from Apareaitu (image 62, page 41v) Apareaitu (image 64, page 43r) Untitled [Palm frond] (image 65, page 43v) Apareaitu (image 66, page 44r) Untitled [Notes] (image 67, page 44v) Sugar cane and Meia or Banana (image 68, page 45r) Castor oil plant (image 69, page 46r) Apunohu valley (image 70, page 47r) Bread fruit trees (image 71, page 48r) South Sea Academy – Revd J Simpson, J (Rev) (image 72, page 49r) The church, Papetoai (image 73, page 50r) Papetoai (image 74, page 50v) Cook's Harbour, Eimeo or Moorea, Papetoai (image 76, page 52r) View at the head of the Harbour of Papetoai Harbour (image 77, page 52v) Valley of Apunohu, Moorea (image 79, page 54r) [Unidentified scene] (image 80, page 55r) View on the South side of Moorea, south side (image 81, page 56r) Tabuna, Tahiti (image 82, page 57r) Papeiti Harbour (image 83, page 58r) Tounoa (image 84, page 59r) The Queen Pomare's house, Matu uta, Tahiti (image 85, page 60r) Houses on Matu uta, Tahiti (image 86, page 61r) View in Papeiti Harbour, Tahiti (image 87, page 62r) Cottage at Tahiti (image 88, page 63r) Tano plant, Tahiti (image 89, page 64r).
MHP00600
Categories: 1830 - 1839, Anglais, Cambridge University Library, Dessins & gravures, Société