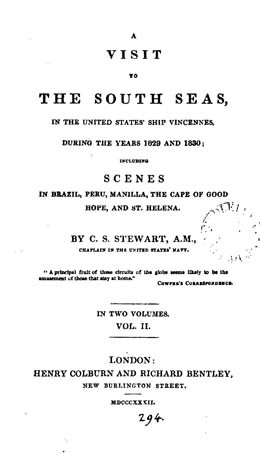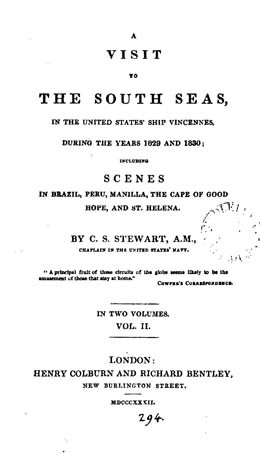 Titre : A visit to the South seas, in the United States ship Vincennes, during the years 1829 and 1830 – Volume II
Auteur : Charles Samuel Stewart
Editeur : Henry Colburn and Richard Bentley – Londres
Date :  1832
Sujet : Récit du voyage du navire américain Vincennes dans les mers du sud.
Chapitre XXXV – Arrivée à Tahiti
Chapitre XXXVI – Port de Papeete
Chapitre XXXVII – A tahitian sabbath
Chapitre XXXVIII – Viste à Eimeo et arrivée dans les îles de la Société (Moorea, Huahine et Raiatea)
Chapitre XXXIX – Entretien avec le roi Tamatoa et sabbath à Raiatea
Chapitre XL – Audience auprès de la  Reine de Tahiti et visite des chefs sur un navire
Chapitre XLI – Lettre de la Reine Pomare au Président.
Langue : Anglais
Nombres de pages : 399
Source : Oxford University
Numérisation : Google
Identifiant : –
Lien : https://archive.org/details/avisittosouthse02stewgoog
Cliquer sur l'image pour lire le document.
Categories: 1830 - 1839, Anglais, Archive.org (USA), Bodleian Libraries - University of Oxford, îles Sous-le-Vent, Livres, périodiques & bulletins, Océanie / Pacifique, Société, Tahiti